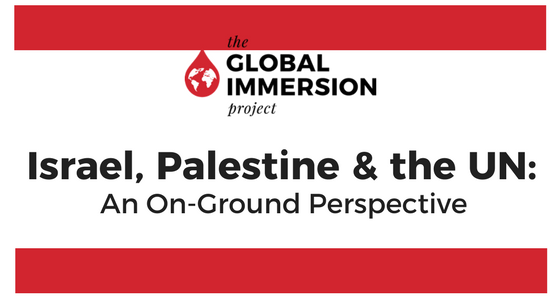 1/2/2017 WEBINAR | Israel, Palestine & the UN: An On-Ground Perspective
December 31, 2016
Webinar
With the recent U.N. resolution condemning Israeli settlements, there has been a whirlwind of media attention leading to widening divides, growing fear and plenty of misinformation. What should the Church do in a moment like this? We must listen, learn and seek multiple perspectives in a posture of curiosity that leads to constructive engagement. This webinar will feature our trusted friends and colleagues in the US and Israel/Palestine to offer policy expertise, on ground Israeli and Palestinian perspectives and the tangible ways our communities can engage these moments in constructive ways that reflect the Jesus we follow.
Join us Monday, January 2nd at 11:30am PST/ 2:30pm EST for a 60 minute round table discussion on the meaning of recent events in Palestine and Israel.
DATE: Monday, January 2nd 2017
TIME: 11:30am PST/2:30pm EST
Host:
Panelists:

This webinar would be a good opportunity for you to invite your community into this critical conversation. We recommend hosting a viewing party to help catalyst the dialogue.