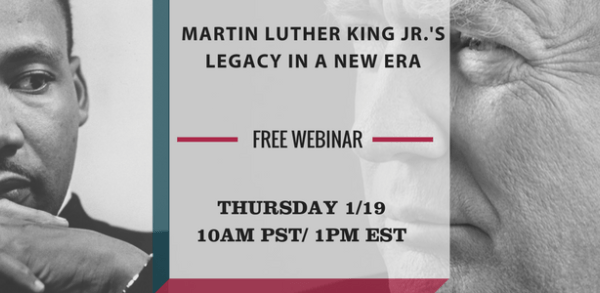 1/19/2017 WEBINAR | Martin Luther King Jr.'s Legacy in a New Era
January 13, 2017
Announcement/News, Uncategorized, Webinar
As we celebrate Dr. Martin Luther King Jr's birthday four days before the inauguration of our next President, it is necessary for us to pause and reflect on how Dr. King's prophetic and proactive legacy MUST inform our life, love and leadership in the months to come.
Jer Swigart will be leading a conversation with a panel of community development experts, asking them how Dr. King's legacy has impacted their peacemaking practice and how these lessons can help inform how we as Christians live and lead as we enter into a Trump presidency.
DATE: Thursday, January 19th 2017
TIME: 10:00am PST/1:00pm EST
Facilitator:
Jer Swigart is the Co-Founding Director of The Global Immersion Project. He has been working in the field of peacemaking and conflict transformation since 2005 when he acted as the liaison between an international NGO, the faith community, the Pakistani military, and the United Nations in the aftermath of a massive earthquake in Northern Pakistan. He co-founded The Global Immersion Project in an effort to form men and women into Everyday Peacemakers who are equipped to reach across boundaries and seek human flourishing.
Panelists:
Reesheda Graham-Washington has a heart for Christian Community Development both nationally and abroad. A preacher and leader of the people, she enjoys culture and the arts. Reesheda currently serves as the Executive Director of Communities First Association and is in the process of opening L!VE – a grassroots generated cafe and creative space to examine what needs to be torn down, what needs to be build up, and what needs to be refurbished in our lives and
Rev. Alexia Salvatierra is the author of  Faith-Rooted Organizing: Mobilizing the Church in Service to the World and the founder of the Faith-Rooted Organizing UnNetwork.  She is a Lutheran Pastor with over 35 years of experience in community ministry, including church-based service and community development programs, congregational and community organizing, and legislative advocacy.
Maha Elgenaidi is the founder of Islamic Network Group. She is the author of training handbooks on outreach for American Muslims as well as training seminars for public institutions on developing cultural competency with the American Muslim community. A senior fellow of the American Leadership Forum and recently named by the San Jose Business Journal as one of Silicon Valley's Women of Influence, Maha has been recognized with numerous civil rights awards, including the "Civil Rights Leadership Award" from the California Association of Human Relations Organizations and the "Citizen of the Year" award from the Santa Clara County Board of Supervisors.
This webinar would be a good opportunity for you to invite your community into this critical conversation. We recommend hosting a viewing party to help catalyst the dialogue.