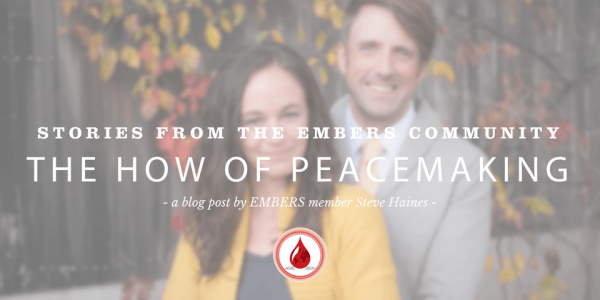 EMBERS stories: The How of Peacemaking
December 1, 2016
EMBERS, Uncategorized
As a part of our EMBERS community launch, we've asked members of the Global Immersion family to share why they are choosing to invest into the Global Immersion movement.
---
During my first Learning Lab experience with Global Immersion a few friends from church and I came in touch with not only the place of the Holy Land, but also the people who still make the land holy. Women and men who give their lives everyday in service to a broken creation – their own hearts and bodies creating space for reflection and dialogue among enemies.
It was there that I saw the how of peacemaking and it was the most beautiful, full, robust life I have ever seen.
Time seemed to stop when I met Ali Abu Awad. He and his family made us a tasty meal and offered an incredible vision of nonviolence. That moment changed my life. Ali's Palestinian house was located next to an Israeli checkpoint, where just recently people had died as a result of the ever-present fear-of-enemy. I was afraid of my enemies back home too, yet here was a Palestinian, whose life has been forced to live through the lens of conflict, who said he sees Jesus more inside conflict than anywhere else, as if to say without my own enemy to love how do I know how God loves me?
He said "The only justice is when death is turned back into beautiful life".
That was April, 2016.
On July 6th, 2016, Philando Castile was shot and killed by a police officer near my Minneapolis home. Our city froze and then became divided. Before meeting Mr. Ali and the other Israeli and Palestinian everyday peacemakers, I would have shut down in fear. But for the first time, I had no fear. The priority was the brokenness around me not picking a side.
Global Immersion is helping to reinvent how our church moves towards conflict with others and within ourselves.
We've found that Everyday Peacemaking is the most creative action in life. It's hard but our experience of God's deep love for all Creation gives us bravery and wisdom.
Because of Global Immersion I have experienced how God is going to bring peace to our world, and it's through me and anyone else who believes that as Christians our vocation is peacemaking. The cross wasn't mystical but exemplary. There IS a beautiful Kingdom that is crashing into this broken world and we are helping guide its collision.
[maxbutton id="7″]
---
About the Author:
Steve Haines lives in Minneapolis, MN with his wife Heidi. Steve considers his family to be his primary life classroom, learning to love and lift up everyone from the inside out, literally. He is an associate pastor at Genesis Covenant Church, a quirky community in St. Louis Park who believes God creates beautiful new beginnings for everyone, everywhere. Steve and Heidi are thrilled to be among the founding members of the Embers community.