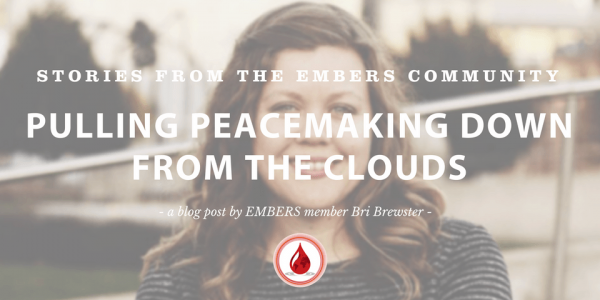 EMBERS stories: Pulling Peacemaking Down from the Clouds
December 12, 2016
EMBERS, Uncategorized
As a part of our EMBERS community launch, we've asked members of the Global Immersion family to share why they are choosing to invest into the Global Immersion movement.
---
Since becoming a follower of Jesus at age 19, I've carried peacemaking close to my heart. It wasn't until I attended a Global Immersion Cultivate event, that I learned a robust theology for peacemaking. Peacemaking began to transform from being a nice ideal to being an actual practice.
Global Immersion invited me into the work of making the peace of Christ real by providing a framework.
They showed me how to pull peacemaking down from the clouds, get dirt under my nails and work it into the soil in my neighborhood and city.
Last April, I was a participant in their Israel/Palestine Learning Lab, where I saw the parallels between the racial injustice in the United States and the Israeli-Palestinian conflict. Because of the training I've received and my experience, I am now able to interact with my city and neighborhood in a completely new and more helpful way. My husband and I decided to move to the most ethnically diverse neighborhood in Des Moines and I've been equipped to invite my white brothers and sisters into dialogue on racial injustice as I've hosted and participated in forums on the racial climate in the United States.
Global Immersion has transformed the way my husband, Adam, and I engage in our local context. Instead of taking brokenness for granted, we are now equipped to identify the fractures in our city and then move intentionally towards the places of shattered Shalom.
I am joining the Embers community because Global Immersion has given me hope in peacemaking. Peacemaking is no longer amorphous, but exceedingly practical and tangible. I am investing in this movement, because it has clarified and healed my vision of Jesus by reorienting the work of Jesus and the cross around waging peace. I am investing in this movement because believing this world can be transformed into a residence for God's Shalom is not an audacious claim, but a possibility with a movement of Everyday Peacemakers.
After only a year, I've witnessed the mere embers in myself be fanned into flame, and that flame is already starting to catch fire in my community.
[maxbutton id="7″]
---
About the Author:
Bri Brewster lives in Des Moines, Iowa with her husband Adam. They are expectant parents this year via adoption from the foster care system. They recently relocated to one of the most diverse neighborhoods in Des Moines. By opening up their home to the community, listening well and sharing their table with people with a diversity of perspectives they are moving towards fulfilling their vocation as Everyday Peacemakers.