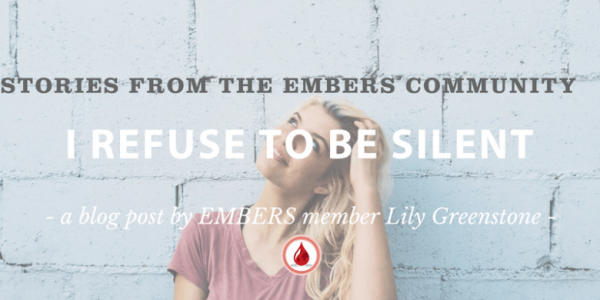 EMBERS stories: I Refuse to be Silent
December 26, 2016
EMBERS, Uncategorized
As a part of our EMBERS community launch, we've asked members of the Global Immersion family to share why they are choosing to invest into the Global Immersion movement.
---
Ever since I was little, I've had a scatterbrained soul. As a kid, I remember my parents making the same quip as I ran recklessly about, announcing my new plans: "This week she wants to be an archeologist/ballerina/author."
It's true: I find new things to love and be passionate about constantly. I find that I love things like I've always loved them; like they're a piece of me, returning home. Like someone cut my heart into a million pieces and planted them all over the world and as I grow up, I gather them. I find them in art, writing, or science, and they become this garden of myself.
So as I walked through Chicano Park in San Diego the first day my youth group arrived on our trip to Tijuana with The Global Immersion Project, I felt that this was something bigger than I'd ever found before.
It almost seemed that the concrete would rumble apart and a tree would rise up–a tree grown from some forgotten part of my heart–and stand before me gesturing its branches to the history and culture and injustice contained in the murals painted on the pillars of Coronado Bridge.
In Tijuana, I found a huge amount of my heart already there and waiting for me to catch up, to find truth and paths to justice for others, especially those caught between the borders of countries.
I think it comes down to this unshakable conviction in me that people matter. I want to use my life and most of all my voice to help make sure that people experience the equality they deserve.
This world, this country–it is not meant to be a place of danger or suffering. I will never stop believing in the beauty and potential we as humans have together. The suffering of anyone is suffering of me; the injustice of others is my injustice. We can bring peace to others, but it has to matter to us, we have to dig deep enough to find all of our empathy and use it to combat the world's apathy.
Rather than a vow I made or some sort of pact with destiny, it's a call I cannot ignore: I was made to use my voice for justice and peace. My voice is all I have to offer some days, but I will use it the best I can.
The Global Immersion Project offers me a place to use my voice, to learn about it, and  have a positive impact on the world that I love so deeply.
From this place of youth and nagging passion and sometimes-reckless words, in a country facing some very big decisions, I refuse to be silent. I will do what I can to foster peace because there is no other way for me to live that seems worth my time at all.
[maxbutton id="7″]
---
About the Author:
Lily Greenstone is a writer, high school student, dually-enrolled college student, and a lover of all things creative. She's an extrovert, a ridiculous optimist, and an aspiring peacemaker