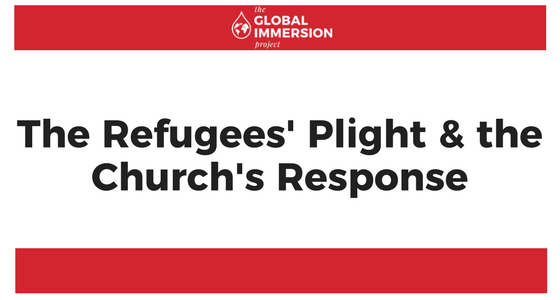 4/20/2016 WEBINAR | The Refugees' Plight & the Church's Response
June 16, 2016
Announcement/News, Conflict Transformation, Everyday Peacemaking, Foreign Policy, Immigration, Interfaith, Reconciliation, Uncategorized, Webinar
On Monday, June 20th at 10am PST, Global Immersion in partnership with We Welcome Refugees is offering a webinar focusing on the harsh realities around the refugee crisis in the Middle East in honor of World Refugee Day and National Refugee Sunday. This webinar will include discussion around:
Information about what is currently from leaders on the ground in the Middle East
As Christians, what should our Kingdom Response be?
Practical ways for local leaders to support and bring hope to the Refugee Crisis
THE PROBLEM:
7.6 million Syrians are displaced within the country, and 3.8 million have sought refuge in other countries. The UNHCR's latest figures show the crisis is getting worse. Families are moving not to simply better their lives, but to literally save their lives.
And at a time when the west is reeling in fear and over half of the Unites States Governor's are saying they will not accept Syrian refugees into their state, we as the Church have a responsibility to respond.
But how? What is ours to do in our neighborhoods, city, country and world?
Facilitator: Jer Swigart, Co-Founding Director of Global Immersion @jerswigart  @globalimmerse
Panelists:
Jenny Yang – Vice President of Advocacy and Policy @WorldRelief and co-author od Welcoming the Stranger: Justice, Compassion & Truth in the Immigration Debate. @JennyYangWR
Jeremy Courtney, Preemptive Love Coalition (Iraq) @JCourt
Middle Eastern Pastor – Name cannot be disclosed