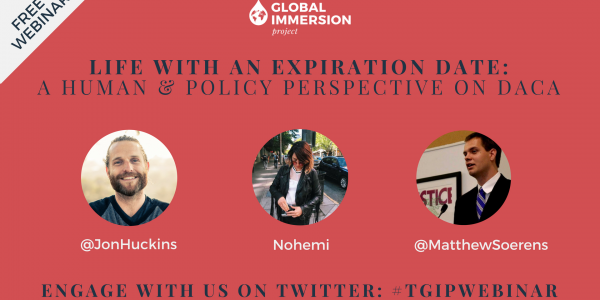 10/19/2017 WEBINAR | Life With an Expiration Date: a human & policy perspective on DACA
September 15, 2017
Everyday Peacemaking, Webinar
We've heard a lot about DACA recipients. It's time we hear from them.
The Deferred Action for Childhood Arrivals (DACA) did not give a pathway to citizenship, but it did allow the opportunity to drive, work and reduce the fear of deportation. Just over a week ago, that program was canceled and these young women and men left to live in fear, trauma and uncertainty.
In this webinar, we will meet Nohemi – a DACA recipient – who will share her story and invite us into the disorientation of this moment. We will also learn from theologian and policy expert, Matthew Soerens, who will brief us on this rapidly changing situation and offer us insight on how to take seriously Jesus mandate to "welcome the stranger" with care and compassion in this moment.
DATE: Tuesday, September 19th
TIME: 1:00pm PST / 4:00pm EST
*even if you can't attend, still register for the webinar and we'll email you a recording of the video conversation.
FACILITATOR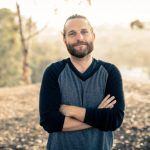 Jon Huckins is the Co-Founding Director of The Global Immersion Project; a peacemaking training organization helping individuals and communities move toward conflict equipped to heal rather than to win. He writes for numerous publications including USAToday, Red Letter Christians, Sojourners, and RELEVANT, and has written two books of his own; his latest being Thin Places: Six Postures for Creating and Practicing Missional Community. His upcoming book, Mending the Divides: Creative Love in a Conflicted World, releases September 2017. Jon has a master's degree from Fuller Theological Seminary in theology and ethics. He lives in San Diego with his wife, Jan, three daughters (Ruby, Rosie & Lou) and one son (Hank) where they co-lead an intentional Christian community seeking to live as a reconciling presence in their neighborhood of Golden Hill.
Connect with him on Twitter, Instagram or his personal blog jonhuckins.net
PANELISTS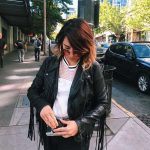 Nohemi – Student, DREAMer

Nohemi is a 23 year old DACA recipient, born in Tijuana B.C., Mexico but in her heart she's from San Diego, California. She grew up in a very humble home in one of the older neighborhoods of San Diego.
She's a communications student, working two full time jobs and a third part time job being a nanny. Balancing school and three jobs has been the hardest thing she's ever done. However, due to her immigration status, she does not have many other options. Her permit allows her to work and study, but still has many restrictions and an expiration date. At the end of her two years of working and studying, she runs the risk of deportation.
With the very limited free time she has, she enjoys photography and visiting museums. San Diego is very rich in culture and art, it has been a blessing to grow up in a city that is so accepting and safe for the immigrant community. Between galleries, community events and the beautiful murals around our city, San Diego manages to create an art of the immigrant life.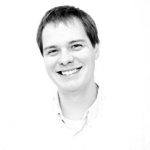 Matthew Soerens serves as the US Director of Church Mobilization for World Relief, which is the humanitarian arm of the National Association of Evangelicals. In that role, he helps evangelical churches to understand the realities of refugees and immigration and to respond in ways guided by biblical values.
Matthew is the co-author, with Jenny Yang, of Welcoming the Stranger: Justice, Compassion & Truth in the Immigration Debate and Seeking Refuge: On the Shores of the Global Refugee Crisis
Matthew previously served as a Board of Immigration Appeals-accredited legal counselor at World Relief's local office in Wheaton, Illinois and, before that, with World Relief's partner organization in Managua, Nicaragua. He has also served as the Field Director of the Evangelical Immigration Table, an alliance of evangelical organizations advocating for immigration reform consistent with biblical values.
This webinar would be a good opportunity for you to invite your community into this critical conversation. We recommend hosting a viewing party to help catalyst the dialogue.
*if you can't attend the live event, still register and we'll email you the recording.