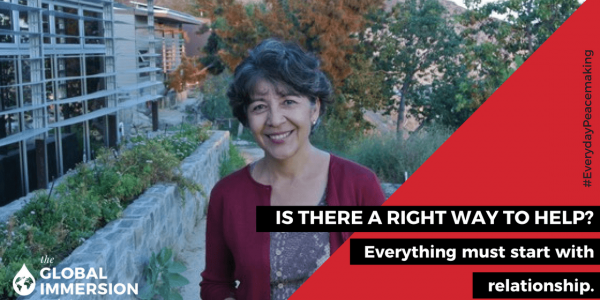 Is there a right way to help? Everything must start with relationship.
May 25, 2017
Everyday Peacemaking, Immigration, Leadership Development
As a part of the #EverydayPeacemaking campaign we are bringing you stories from Everyday Peacemakers around the world.
. . .
con·tend
kənˈtend
verb
:  to strive or vie in contest or rivalry or against difficulties :  struggle
The word "contend" isn't usually used in everyday language, yet it's very much at the heart of our mission at Global Immersion and central to the practice of peacemaking.
. . .
Maria Sheahan was born and raised in Mexico. She has worked with the marginalized in several parts of Mexico, mentoring leaders, leading youth, and planting a church. She now lives in San Diego close to the Mexican/American border where she develops leaders on both sides and visits her family. She lives in a sweet community in a largely Hispanic neighborhood where she teaches English and loves on migrants. Maria also lends her bilingual skills to the medical world where she works part-time as an interpreter.
QUESTION: Was there a specific event, something someone said, or maybe scripture, that prompted you to live a life of peacemaking? 

MARIA: Yes, it was a combination of two things.  One was when I started understanding the love of God as a Father and the Scriptures where it says to Love your God with all your heart, soul and mind and your neighbor as yourself, I knew this was a way of living that God was inviting me into, although I still didn't know what that looked like at that point.
The second one was when I visited an orphanage in Tijuana for the first time. Tijuana is my home, it's where I grew up, where I lived for 28 years. I found a group of foreigners taking care of the needs of these children.
"My heart broke not because of the children, but because there were no Mexican's in sight taking care of these Mexican kids. I asked "Lord! Where is the Mexican church? Why are we waiting for foreigners to come and take care of OUR children? The Lord answered me: "Who's going to start?"  I said, "I will!""
QUESTION: When you saw foreigners coming into your country to minister to those orphans, how did it impact you? How did it challenged your way of thinking? 
MARIA: It changed my life! I grew up only thinking of my needs and myself due to growing up in extreme poverty. God was inviting me to step out of that, so I joined that group that was working with the orphanage and with the poor in Tijuana, as well.
This group was making friends with the people, rain or shine they were there. This was very impactful in my life. Long-term relationships were formed and this shaped the way I do ministry.  Immersing in people's lives, getting to know them, knowing their families, was very important and a very valuable life lesson I learned.
"Then the people I ministered to were no longer "the poor" or "a project", they became my friends."
QUESTION: Church Resource Ministries (CRM) develops leaders. Please share about your work with CRM and how you see it helping others in a healthy, sustainable way.
MARIA: Essentially we care and develop Christian leaders in the U.S. and also in Mexico. If a person in ministry doesn't have someone to confide in, or the resources to take time to rest, or feed his/her soul, they won't last long doing what they feel called to do. We want to help them stay in healthy ministry for the long haul by providing soul care and encouragement.
QUESTION" What practical advice would you give to someone wanting to contend for neighbors or injustice they see?
MARIA:
Immerse before you contend, don't assume that because you "saw", that you know what the best way of contending is going to be.
Opportunities for contending will come out of your relationships with people.  Listen well, ask questions, do not assume. The more you know the person or group you want to contend for, the better you can contend for them and even with them.
QUESTION: How did you become involved with Global Immersion and in what ways do you guys collaborate for the marginalized in your community?
MARIA: We got to hear Jon Huckins' heart since the beginning of Global Immersion because we are in the same faith community. Jon knew of our background and connections in Mexico and my husband's heart for social justice, our love for people, of culture and language.
The way we collaborate with the marginalized in our community is by finding ways to befriend our neighbors, responding to the opportunities for contending like; teaching English as a Learned Language, connecting needs in the community with my Mexican friends who need jobs, or when my English speaking friends want to learn Spanish and my Latino friends want to practice their English. When my non-English speaking friend needs to write a letter to her landlord, etc, we look for ways to connect the needs with the resources.
Feel free to add anything else you think would help readers understand what "contending" means and how they can make it part of their everyday lives.
MARIA:
"Contending is going the extra mile for the other person who is under something they cannot provide for themselves."
It starts by getting out of your head, house and protective shell. It starts when you rub lives with others.
Sometimes we think that contending needs to be something big. Most of the times it's not. It comes in small creative ways as we strive to love people well.
If you'd like to support Maria and her husband Shaun's work with CRM you can donate to their ministry here.
Take steps to becoming an #EverydayPeacemaker by downloading and starting the Month of Peacemaking Challenge here!
---
About the Author:
Adrienne has blogged haphazardly over the last 10 years at www.adriennegraves.com She and her family recently moved to Nashville where she talks to strangers, gathers stories, and writes them down to share. Adrienne founded Bevy, a non-profit organization whose mission is to create safe spaces for women to share their stories candidly.